Moderator: Team
Expert

Posts: 716
Joined: Sun Oct 02, 2011 7:58 pm
Did anyone follow the recent state of the nation speech of President Putin?
---
Guru

Posts: 6044
Joined: Sat May 20, 2006 6:28 pm
Yes we did...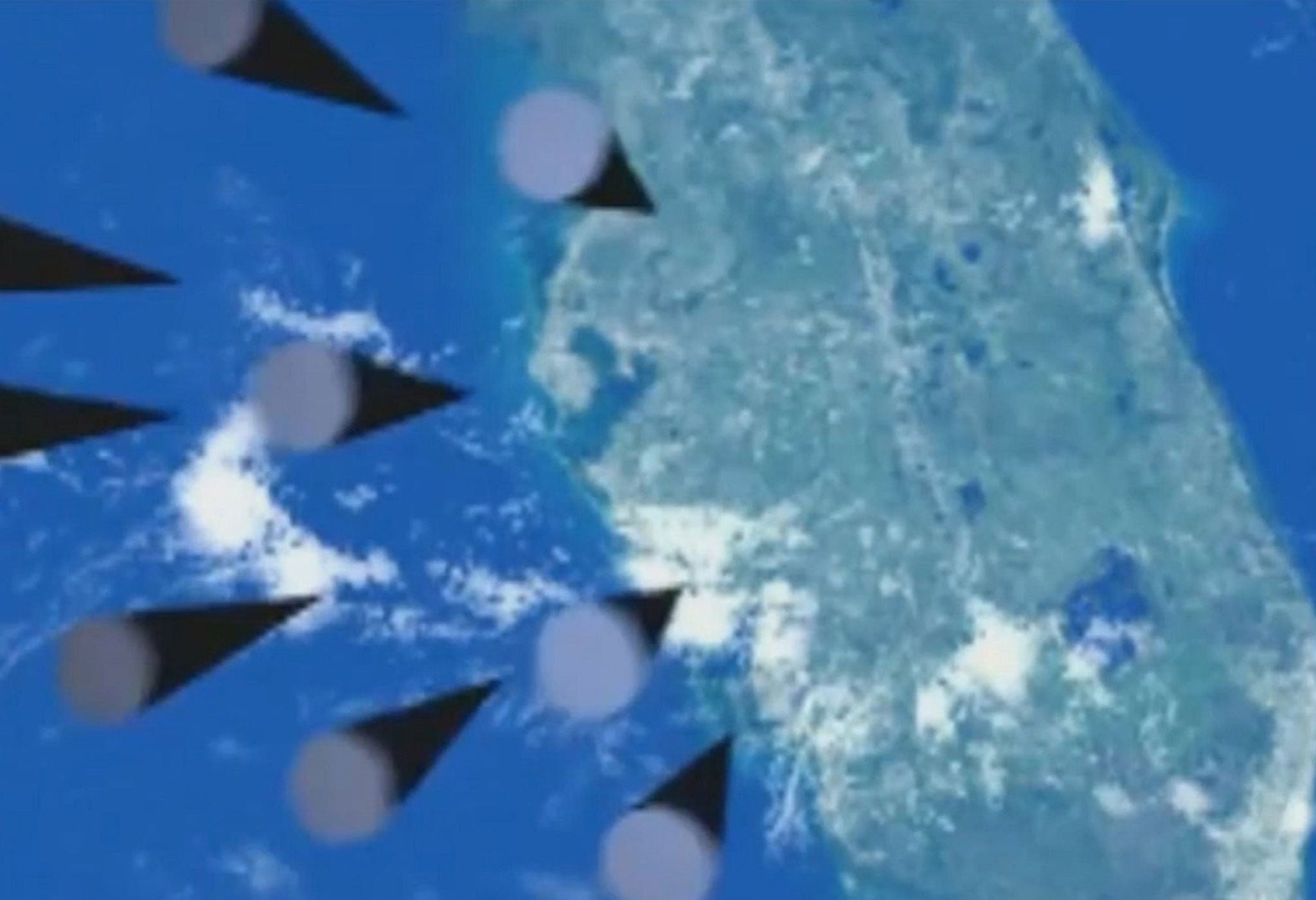 ---
Guru

Posts: 4477
Joined: Sat Sep 03, 2016 9:03 pm
They sure saved a lot of rubels on their military might superiority missile graphic.
Wonder which warhead was headed to my town?
---
Expert

Posts: 716
Joined: Sun Oct 02, 2011 7:58 pm
It was an interesting review. Solid economic growth. Joining up with China in the OBOR initiative. Largest purchaser of gold in the world. Moving to replace the US dollar as reserve currency. All this was public knowledge although the replacement of the US dollar as reserve currency was usually not addressed directly and specifically in the past.

What was new was the discussion about the deployment of some of the Russian Federation's latest weapons systems. That the Russians have a strong lead in important aspects of missile and radar technology is no surprise really. Same can be concluded for their jamming abilities. The extent of their weapons capabilities was not previously stated as bluntly as has now been done though. The varied array of new systems and what those systems can achieve give pause for thought. Basically the consequence of what has just been deployed (or is about to be deployed) is the neutering of the US Navy in the eastern Med, eastern Pacific, Baltic, North Atlantic, North Sea & Arctic. The THAD and other anti-ballistic missile systems are rendered useless for the purposes of defeating Russian missile and aircraft strikes for the foreseeable future. Replacement of Satan ballistic missile system with far more capable Sarmat is one of the several means achieving that result. Another is the nuclear powered "torpedo" which can linger on station indefinitely until it is instructed to sail into a port and detonate. They have introduced several maneuverable hypersonic vehicles (mach 10) with extended range as well as some classified laser weapons systems with as yet undiscussed capabilities.

This is important as it means we are now confirmed to be in a multi-polar world and not a uni-polar one. The present US strategy allowing for a first-strike nuclear attack is a goner- completely unthinkable really. So is the possibility of using aircraft carrier task force groups, or indeed any surface units, against Russia. It is likely that the carriers now get relegated to power projection against weaker third world outfits, if that (for it is becoming riskier to act against the national interests of Russia in a third country). As far as air power is concerned, for decades the US military has relied on it absolutely. It is no longer possible to achieve US air-superiority in locales where Russia does not want it to exist. Consider what happens when flying into an area covered by SS-200 (let alone the 400). You can forget about stealth. It will not evade detection when flying into a properly defended region. They can see you (do not forget that it was Russians who came up with the stealth concept in the first instance, they sure understand it well enough).

Now notice that all these systems are defensive in intention. Russian government is sending a signal. They do not seek a war, but have made it clear that should one come to them, they'll fight back (and how!). Notice also that the Russians have built all this stuff and are deploying it presently on a tiny fraction of the expenditure consumed by the USA. THAT is a severe warning. It is an example of the asymmetric response President Putin has become well known for. He allows others to act rashly (in this case by spending hundreds of billions of dollars on weapons) before he responds (in this case by deploying his own weapons systems which, while costing a pittance in comparison, render worthless the weapons of his opponent).

Time to understand that placing US and NATO military units on Russia's western borders was a very provocative and foolish thing to have done. Maintaining them there is doubly foolish. President Trump was correct during his campaign, when he indicated NATO was without purpose and needed to be wound up. He was right when he wanted to revisit the diplomacy exhibited by his predecessors Presidents Nixon, Ford, Carter, Reagan and the senior Bush in negotiating and working with Russia. Strange how he forgot about this... Perhaps President Putin's speech may give sufficient pause for thought and jog the memory some. Perhaps it will act as a reminder (as it appears to be intended to).
---
Guru

Posts: 4477
Joined: Sat Sep 03, 2016 9:03 pm
"Time to understand that placing US and NATO military units on Russia's western borders was a very provocative and foolish thing to have done. Maintaining them there is doubly foolish."

Your punch line is unsupported, and incorrect, I'm afraid.
---
Guru

Posts: 8296
Joined: Thu Mar 04, 2010 8:05 pm
Funny how the lone man on the ground in the right place at the right time can blow some assholes head off, isn't it.

Sure, the shooter won't make it out alive, but the job at hand will have already been done..

pdq67
---
Expert

Posts: 716
Joined: Sun Oct 02, 2011 7:58 pm
j-c-c

Really? Seems you are being a hypocrite, little one. You failed to realise that it is you who make unsupported assertion in your post. You'll need to do much better than this.
---
Guru

Posts: 4477
Joined: Sat Sep 03, 2016 9:03 pm
Wait for it, wait for it, Nato stationed in proximity to Russia is mainly a trip wire for the democratic world, Russia crosses/attacks it, its very likely full blown WW3, it doesn't provoke Russia as you conveniently asserted without any supporting reasoning. Removing/reducing NATO tempts Russia with its age old expansionist reclamation territorial thinking. Try not to throw around the hypocrite label so quickly, when its applicable, its usually obvious.
And I can always do better, Unlike some, I am not perfect, nor know every answer.
---
Expert

Posts: 716
Joined: Sun Oct 02, 2011 7:58 pm
j-c-c

"Nato stationed in proximity to Russia is mainly a trip wire for the democratic world, etc".

That's puerile propaganda. A pity you are so credulous as to buy into that. It is quite noticeable that when it comes to history and the conditions which have developed into the present situation you are quite the ignoramus. Perhaps this is due to the shortcomings of the US education system and how it indoctrinates a national mythology rather than demonstrating how to research and learn (especially in the subjects of history and economics). Perhaps it is the incessant fake news delivered by mainstream media day in, day out. Sure, you are subject to it every day, all day, but that is not a reason to believe it.

Understand it was the Soviet Union which defeated Nazi Germany. That came at the cost of 26 million Russian lives (who fought hard enough to kill 5.5 million Nazi soldiers in the herculean effort to kick the invaders out). The US and UK invaded France long after it was clear that the Third Reich had been bled dry on the Eastern front, was losing its war and was doomed. The war in the West was a sideshow in comparison to what occurred in the East. The magnitude of the war in the East is something which is unappreciated by the vast majority of the US educated, many of whom who seem to be under the impression that John Wayne and a few of his merry mates joined the marines and went off to beat the Wehrmacht all by therselfs ('cause they wuz such good 'Mericun soljahs and all that). The reality is very different to what you have been force fed. The Russians certainly have not forgotten. They do not want a repeat of what was suffered in the terror of communism and certainly not of WW2. I suggest you read what President Putin has written and stated on this subject.

After the economic collapse of the USSR (which itself was a creation funded by Wall St. and which had originally been unleashed on the hapless Russians by Western interests) there was a realisation by Gorbachev that communism was an inhuman failure. He entered into a series of negotiations wherein the USA and NATO consistently guaranteed that if the USSR removed its military from Warsaw Pact nations and allowed the two Germanys to reunite there would be no move by either NATO or USA to admit former Warsaw Pact countries into NATO. Further Nato and US military would not move "even one foot further towards Russia". The idea was that the former Warsaw Pact nations would be as a neutral buffer between Russia and its former cold war opponents (taking on similar status to Austria or even of Finland, Ireland, Malta, Sweden or Switzerland). This undertaking was confirmed several times and repeated by President Bush (senior). The USSR honoured its side of the bargain and withdrew from Eastern Europe. Then it broke up into separate countries with significant disarmament, reducing the once formidable military of the USSR (a military capable of invading West Germany, rolling across central Europe and reaching English Channel in under one month- assuming no use of nuclear weapons by either side) to a force which was incapable of adequately defending even Russia itself. There was a lot of good will towards the USA in Russia at this time and it remained for a considerable period, even late in the time of President Yeltsin, although it started to diminish when it became clear that what was going on was a US directed plundering of the Russian economy. Anyway, at one point the Russian government applied to join NATO and was rebuffed. It applied several times and each time the same result. No!

Gradually attitudes in Russia started to become much more realistic. There was a realisation that rather than a partnership, what the West was offering Russia was an economic destruction, plundering and a desecration of what remained of their culture and people. A series of events hardened this understanding throughout the population. First there was the setting up of anti-ballistic missile bases in Europe in direct violation of the SALT. Second were the on-going attempts to destabilise the Caucuses (many instances of that). Third, was the training, funding and supplying of Neo-Nazis in the Ukraine to run a coup d'etat against the democratically elected government there. The Obama regime later admitting to the spending of over USD 5.5 billion to bring it on. Forth, attempts to seize Crimea so it could be used a US forward naval base directed against Russia (that one failed when the Crimeans voted overwhelmingly to return to Russia- of which Crimea had been part of for hundreds of years). Fifth was the erection of anti-missile bases close in to the Russian borders (missiles which are also capable of being nuclear armed, giving mere minutes of time to respond to if launched). Sixth was the movement of US Navy surface units into the Black Sea (that one backfired when the Russians demonstrated how readily they were able to counter US electronic warfare systems by jamming). Seventh was the movement of military units directly onto the Russian border. This last is a particularly serious threat for Russia and one not ignored by them. It has particular resonance for them, as today there are German tanks far closer to Moscow than when the Nazis launched Operation Barbarossa. Final example, back in 2001 the US government broke with the Anti-Ballistic Missile Treaty in order to fast track and develop missile systems which it was thought would allow it the option of a first strike against an adversary (a.k.a. Russia). This was a dire threat to Russia and one which they would have understood very clearly as such.

Time and time again the Russian Federation has indicated a desire for trade and the solution to disagreements by diplomacy, as well as by submission of all parties to existing international law. Time and time again they have been faced by a recalcitrant US government which relies on threats violence, lies, deceptions, going back on its word and doing exactly the opposite of that which its propagande proclaims. This has resulted in various commentators concluding the US govt is "not agreement capable". The US govt funding, resourcing and training of ISIS, Al Qaeda and all sorts of other violent outfits about the show in Syria, meanwhile claiming to be against terrorism, has confirmed in Russian diplomats an understanding that the USA is "not agreement capable." This is dire.

Each and every one of the rash, hostile and dishonest acts against Russia has been breaking a tripwire. And now, here is the result, a regenerated nuclear superstate which has good reason to not trust the West, with more than sufficient means to defend itself from any act of war unleashed upon it and now a guaranteed ability to destroy not only the US military but the entire country as well. What could possibly go wrong?

So what should have been a friendly trading nation is now oppositional and not trusting any longer. I'd call that achievement scoring an own goal.

One final point to understand, Russia does not seek a war with Europe, not to invade or destroy it. They seek to trade, especially with German industry. German industrialist seek to do likewise with Russia. It is US interests which seek to frustrate this developing relationship... (study history and you'll see this is exactly what the UK and the US have sought to prevent for a very very long time indeed- start with MacKinder, then Churchill and go forward from there).

And yes, you are an utter hypocrite. Ignorant also.
---
Guru

Posts: 6044
Joined: Sat May 20, 2006 6:28 pm
---